We're a leading export quality machine provider and our brand Micro Star Machines is known and famous for the quality and durability. No matter what we always maintain our standards and we believe this is the best way towards our customers.
We deal with the best quality of Paper Making & Packages machines.

Micro Star Machines provides the best quality Paper Making & Packages machines.
Corrugated Production Line
Corrugated production line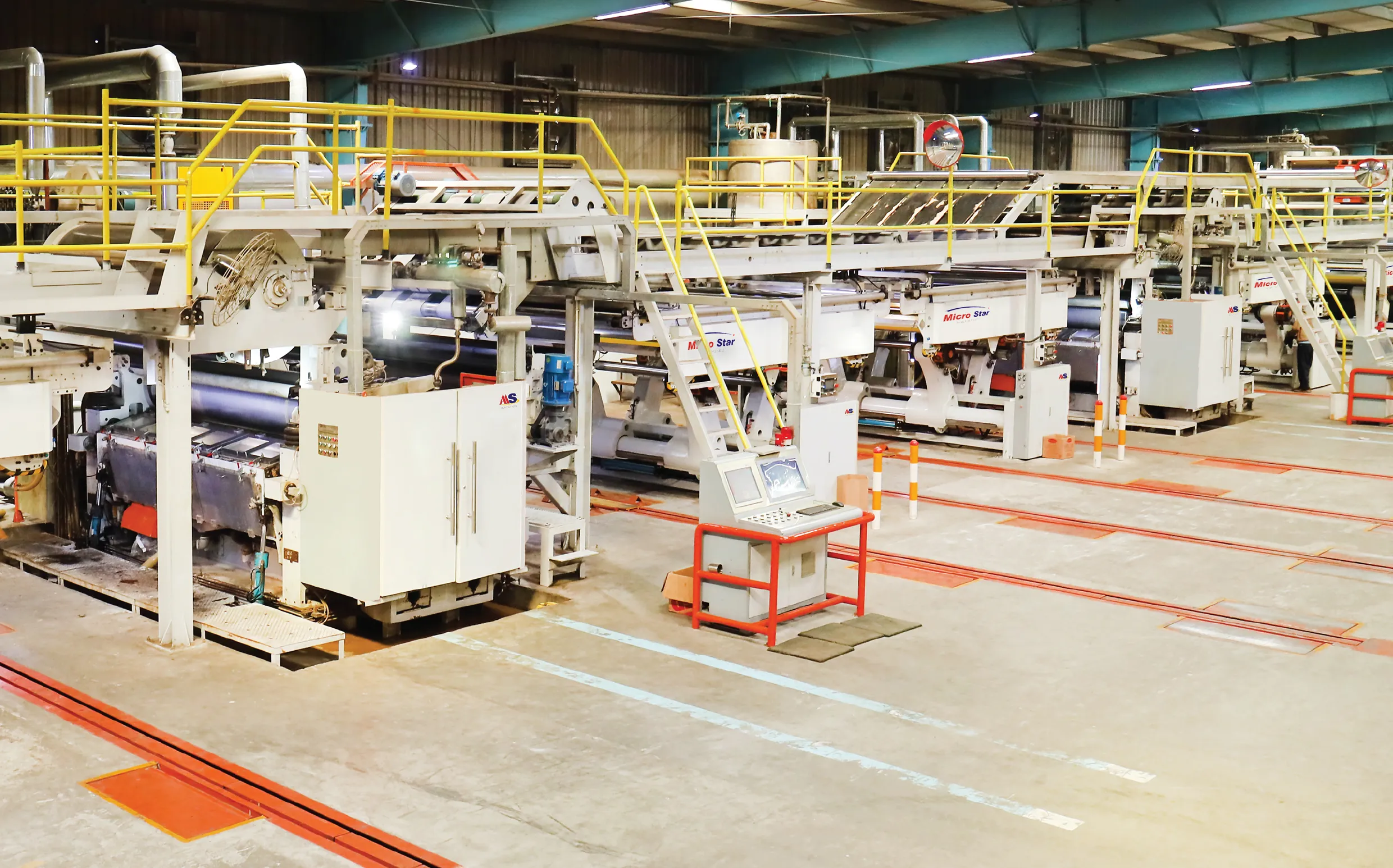 Corrugated Cardboard Production Line is the professional equipment for producing corrugated cardboard. The 3ply, 5 ply, 7ply and multifunctional corrugated cardboard production line mainly consist of the following equipment: Mill Roll Stand, surface paper (core-paper) pre-heater, Single facer, conveying Bridge, Glue Application, Double face, Slitter Scorer, Cut-off, Conveyer and Stacker, Heating System, Air compression system and Glue Making system, etc. The 3ply, 4ply, 7ply and multi-function corrugated cardboard producing line has high middle and low grade with different specification and different quality equipment. On the base of understanding the requirements of the customers and the advanced skills at home and abroad, our company has developed and designed these production lines with various speeds. 
Our company absorb advanced technology from other countries, and on the bases of feed back we get from users and on the bases of our experiences we develop the new production. The main features of our machine are high atomization, easy operation and maintenance, high efficiency, good quality of cardboard production, compact structure and nice appearance. 
Single Facer Machines
Roll Stands
Bridge
Double Gluing
Double Facer
SLITTER SCORER
NC CUTTER
DELIVERY SECTION
AUTO/MANUAL GLUE MAKING SYSTEM
AUTO SPLICER
FLEXO PRINTING MACHINES
ROTARY SLOTTER MACHINE
ROTARY DIE MACHINE
AUTO/SEMI AUTO FOLDER GLUER
AUTOMATIC STITCHER WITH FOLDER GLUER
SEMI AUTO STITCHER
AUTO/SEMI AUTO FLUTE LAMINATOR
AUTO/SEMI AUTO SHEET CUTTER
AUTO/SEMI AUTO FLAT DIE CUTTING MACHINE
TOP HEAD STITCHING MACHINE